As well as celebrating our county's wonderfully vibrant Asian food scene, the Leicester Curry Awards have a commitment to supporting local causes.
By donating a proportion of each ticket sale, this year we'll be raising funds to help the work of our two nominated charities; The Rik Basra Leukaemia Campaign and Crimestoppers UK.
This week, we'd like to introduce you to Rik Basra and his charity, founded to help save the lives of those fighting blood cancers.
---
Every year, an estimated 2,000 people in the UK find themselves in need of a bone marrow or stem cell transplant as a result of life threatening blood cancers. Around 75% of them won't find a matching donor within their family.
For former Leicestershire Police Inspector Rik Basra, this frightening statistic became a reality when he was diagnosed with Acute Myeloid Leukaemia (AML) back in 2009. After extensive chemotherapy, Rik beat the disease. However, the cancer would return two years later and leave him with the daunting prospect of a bone marrow transplant as his only hope of survival.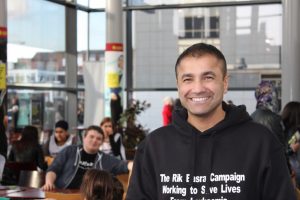 Tests confirmed that there was no match within his family, and the search was widened. However, as a British Asian, Rik had to face further terrifying figures – there are significantly fewer donors on the UK register from the Asian sub-continent – only 4% of the entire database.
Thankfully, the search went international and a suitable match for Rik was eventually found in Germany, with very little time to spare. The donor saved his life and, as a result, Rik now has a commitment to driving awareness of and sign-ups to the Anthony Nolan Register – the body responsible for the donor database here in the UK – with a particular focus on underrepresented minorities.
Rik told us what being a nominated charity of this year's Leicester Curry Awards means:
"The Rik Basra Leukaemia Campaign is absolutely delighted to receive support from Pukaar News and the Leicester Curry Awards. We're of course keen to spread our life saving messages and impress on people just how easy it is to save a life.

"The awards will help us reach an even wider audience, everyone loves a curry and we want to use the opportunity to give everyone more food for thought!"
To learn more about Rik's story and the work of the campaign, to donate to the charity or to find out how to register on the Anthony Nolan database, visit rikbasra.com