Happy February and welcome back to the Leicester Curry Awards blog! In this week's Meet the Sponsors post we introduce Anand International, who have chosen to support us by backing the category of Best Vegetarian Restaurant.
---
Established in 1981, Anand International Ltd are leading wholesale trade distributors of brand named batteries, blank recordable media, consumer electronics, computer peripherals, smoking sundries and associated products
Operating across the UK and Europe, they supply major high street and online retailers, discount stores, wholesalers, the convenience sector and B2B including Government and local authorities.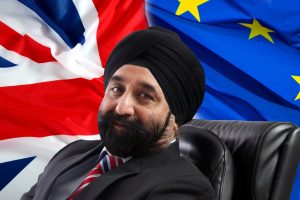 Built on an ethos of reliability and friendly customer service, Anand are proud to operate their business in a family atmosphere, investing in their staff as well as the wider society, working with various organisations to bring communities together.
Business owner, Vic Sethi, gives us his view on this year's inaugural Leicester Curry Awards:
"It is great to see that Pukaar News has come up with this brilliant Leicester Curry Awards idea. Leicester is one of the most vibrant and multicultural cities in Britain. There are 100's of Indian restaurants, takeaways and fast food chains across Leicestershire who work hard all year round to serve us and I strongly believe, like every other business, they do deserve a recognition.

"This recognition is dedicated to the chef's behind the scenes who are tirelessly working in the kitchen, the staff who serve us and the manager who offers his or her best service to the client, making them feel special."
A vegetarian himself, Vic enjoys an Indo Oriental style Chilli Paneer in a crispy hot and sour sauce.
As a cuisine with such strong vegetarian influences, Leicester's Asian food scene makes for a great meat free night out. To support your favourite vegetarian restaurant, nominate them online at: leicestercurryawards.com/mynomination
To find out more about Anand International, visit their website at: anand.co.uk