A favourite curry dish of the UK is the humble, yet delicious Rogan Josh. But where does this warming, hearty dish come from? India would be a well-educated guess, of course. This staple food of Kashmiri cuisine (food from the Kashmir Valley of India) did not originate in India at all. It's said that it came to the region with the Mughal Empire—a people who originated from what is now known as Uzbekistan, and whose cuisine was naturally influenced by Persian cuisine.
With their middle-eastern palette came these spiced dishes. The Rogan Josh itself is one of the main courses in the multi-course meal, the Wazwan. The preparation of this meal is considered to be an art-form, and is revered with great pride in Kashmiri culture.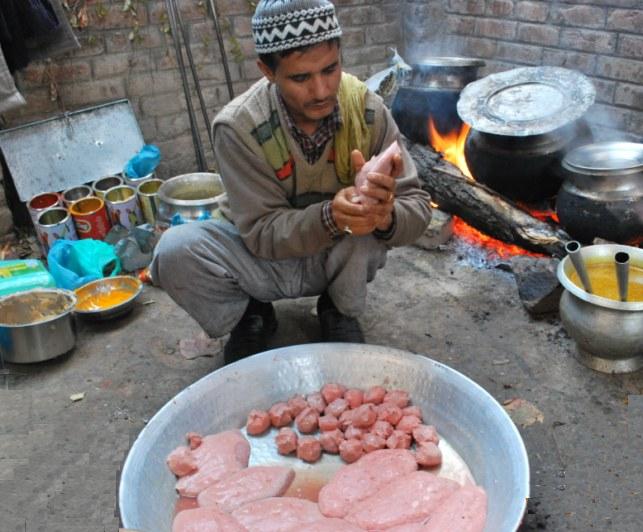 The Rogan Josh one that's aroma is unmistakable. However, there are many different versions and alterations one can make to ensure this dish suits them. Below you'll find a recipe to make your own vegetarian cauliflower Rogan Josh, on behalf of the Leicester Curry Awards team, if you're willing to try!
Cauliflower Rogan Josh –
Serves 4
Ingredients:
1-3 red chillies
4 cloves of garlic
Roughly 4cm of root ginger, peeled
2 tbsp tomato purée
400g tin chopped tomatoes
3 tbsp vegetable oil or alternative
1 large onion, finely chopped
1 red pepper
1 large cauliflower
1 cup Basmati rice
1 Vegetable stock cube
Seasoning:
1 bay leaf
1 tsp cinnamon
1 tsp sugar
1 tsp ground cumin
2 tsp ground coriander
50g natural yoghurt or dairy-free alternative such as coconut yoghurt
1/2 tsp garam masala
Fresh coriander, to serve
Salt and black pepper to taste
Chopped Almonds (optional)
Method:
Remove the stems (and the seeds if you want a milder curry) from the chillies, and blend them together with the peeled ginger and garlic cloves, tomato purée and roughly 50ml water, into a smooth paste. You may need to add more water if it's too thick, but don't worry too much!
Add your rice and a vegetable stock cube to a pan, add two cups of water and bring to the boil. Use a fork or wooden spoon to help dissolve the stock cube. This should take roughly 10-15 minutes to cook, but it's always recommended to check the instructions on the pack, depending on what type of rice you've decided to use.
Whilst the rice is heating up, chop up your onion, red pepper, and cauliflower. Then add 3 tbsp of oil to another pan and put over a medium heat. Add your bay leaf and cinnamon, and let them fry for about a minute.
Add the onion and sugar to the pan and continue to fry for a further two minutes, making sure to stir gently to avoid anything sticking to the pan. After this, add your red pepper and cauliflower, along with your blended curry paste, coriander and cumin. Stir them all together for no more than 30 seconds, and then add your chopped tomatoes. Allow this to cook for five minutes.
Stir in your yoghurt (add more to increase thickness, or add a bit of water to reduce). Cover your pan and allow this to cook for a further 5 minutes.
During this time, you can finely slice up another chilli, chop up your almonds, and pick some fresh coriander leaves.
Taste your Rogan Josh, add salt, pepper, or a pinch of garam masala to taste, and then serve alongside the rice, with your chilli, almonds and coriander leaves on top!
(Don't forget to remove the bayleaf!!)
Of course, one of the great things about cooking is experimenting and changing things up! So add or remove anything you want, have some fun with it. We hope you enjoy!
Published on 27th March 2020